A silent match is played on a cement court in Raval, Barcelona. Only from time to time can be heard laughter and the sound of two players clapping hands and applauding when something goes well. Other than that, little else. "Maybe it's because they are shy. It's something I observe in many migrant people, who are in a totally new context." This is the observation of Vincent van Grondelle, co-founder and volunteer coordinator of Iguality, an NGO dedicated to the mental health and integration of marginalized people.
Iguality works with migrants, LGBTIQ+ community and other vulnerable groups. The team offers them mental health programs and connects them with others in more stable situations. The aim is to bring people together, thus contributing to the improvement of their mental state. Sports activities are pillars of the project, as the founders advocate that physical exercise positively affects the brain, and also creates community. "When you do sports, it's a time when you don't have problems. If you play an hour-long match, it's an hour in which you forget everything," explains Carlos, a volunteer in charge of football activities at Iguality. That is why a football match is played every Tuesday.
"The football field being free is important so that it's accessible to anyone"
When they started organizing these matches in September 2022, they did not find any open playing fields and had to rent a court in the Poblenou neighborhood for 58 euro per hour. Half of the expenses were assumed by the NGO, and the other half was paid with voluntary contributions from the participants. Of those who could afford it. "It should not be like this," Carlos thought, and searched until he found a free football field. "The football field being free is important, since the idea is that this activity is accessible to anyone without any type of impediment, especially economic."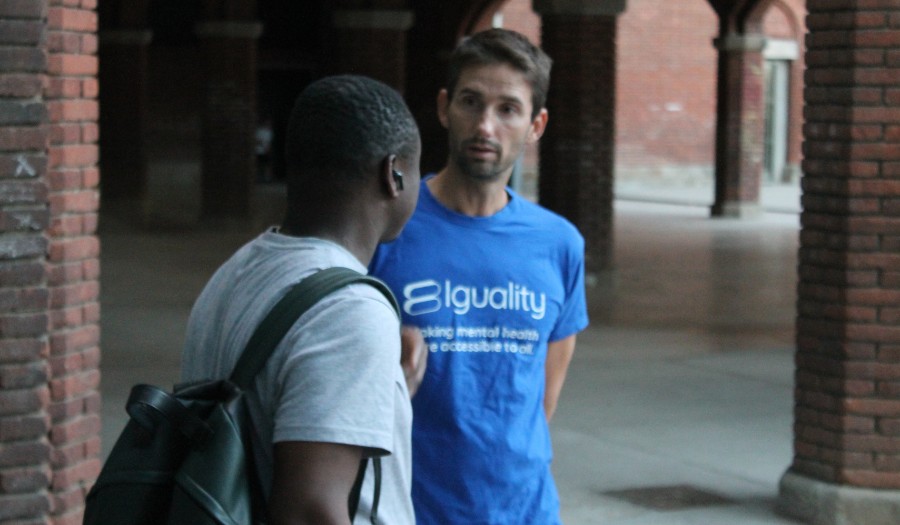 Carlos is organising the weekly football activity and is always playing himself, while managing all the players joining every week. | Picture by Iguality
This is the school Collaso i Gil's football field, close to Paral·lel metro stop, in the Raval neighborhood. It is managed by the Ciutat Vella Sports Association, a public association which manages several spaces in the area and makes them available to schools, clubs and social entities. Carlos was not deliberately looking for a field in that neighborhood, but it was as if the Raval had been waiting for them.
The Federation of Neighborhood Associations of Barcelona (FAVB) warned in 2021 that poverty, insecurity and crime in this neighborhood of Barcelona have caused an increase in mental health problems among its inhabitants. According to this federation, a large part of the Raval residents are at risk of exclusion, they are unemployed or have very low incomes, and the loneliness rate is significant.
Today there are five men and two women on the football field. Among them, they speak English or Spanish. Almost all of them are foreigners, and each one is dressed in their own sports clothing. Three children from the neighborhood have joined them in an improvised way. One of them, who is the one who shouts the most, asks for the ball to be passed to him and complains when something does not go right. It is noticeable that some players have been playing football for longer than others.
When he can, Vincent tries to join Carlos to support him organising the matches, and together they plan and carry out the weekly activity. | Picture by Iguality
All kinds of people show up to Iguality's matches. Some work in Barcelona and have no financial problems, while others find themselves in opposite situations. "Some of them do not have jobs, they have just arrived and are going through moments of great uncertainty. The idea is to have a space for everyone," Carlos explains.
Mercedes (Argentina) and Diana (Colombia) are a couple who met playing football in China and arrived in Barcelona a month ago. Both agree that, indeed, the Iguality matches are a space for everyone. For them, playing football as women was never the norm, but this sport has accompanied them throughout their lives. "We started playing football in the street, always on cement. In my case, football is closely linked to Argentina and my childhood," recalls Mercedes, who is wearing an 8M t-shirt and indoor football shoes with Messi's name printed on them. Diana says that when she was little she changed cities a lot, and every time she moved, football was the way to socialize and integrate into the community where she was. In these meetings in the Raval they feel comfortable, also with men. With a smile, they explain that they appreciate the game being so friendly and the fact that this space is made available to practice regularly and for free.
If there are not enough players signing up through Meetup.com and Eventbrite, local kids from Raval often join the weekly matches. | Picture by Iguality
Although there is still not a large fixed group of regular participants in these matches, a few players attend each week. Vincent explains that these are usually people belonging to the most vulnerable groups or who feel loneliest in Barcelona. Many are immigrants. "It means that for them this is a safe place, where they can connect with people. When you play football, the people around you are teammates," he says. According to him, the clearest impact of this initiative has been the friendships that have been formed. Iguality's therapy patients who feel lonely are encouraged to join the sports activities so that they can develop a sense of belonging to a supportive community.
"It sounds silly, but the bibs were a big change."
Just before the match, after the players introduce themselves, Carlos hands out gray and green bibs: a visible sign of belonging to a group, whose members have a common goal and help each other. Vincent explains that they have recently bought them with individual donations, as the NGO does not yet have sufficient funds for such accessories. "It sounds silly, but the bibs were a big change."
As he watches the game from the sidelines, Vincent looks at the project he has created with pride, but also with trepidation: he still has a lot of work to do. The biggest challenge is to get enough players, who come every week and who love football and the community. This would also help newcomers feel more at home. Another hurdle is money. The bibs are a start, but they need the cooperation of some business to fund things as basic as water bottles. "We also want to be able to pay for a grass field," says the coordinator. "Cement makes the game harder, and there can be injuries. Also, grass is better for people who have never played before". All of Iguality's staff, including Vincent and Carlos, are volunteers. In the future they hope to be able to hire some of them.
As coordinator, Vincent is overseeing all the work of Iguality and is on a contionous search for funding, both for the sports activities but also for the mental health program of Iguality. | Picture by Iguality
The women and men in today's match all speak English or Spanish, but given the large number of immigrants involved, this is not always the case. Carlos remembers one African boy who no longer comes because the match schedule coincides with the Spanish classes he has recently started. Like many other players who have passed through Iguality, he came to Spain on a boat from a village in Africa. He did not know how to read or write.
Despite all the differences, there was a way to understand each other: "We were speaking the language of football."
Carlos describes that these men, or in many cases boys, do not see how to get started in this society, and any activity adds up. "I came from a totally different world. Playing football can be a start, you learn to say 'hello' and meet somewhere at a certain time. Time is conceived differently, but if you are going to have any job here you need to know how to be somewhere at a certain time." The boy spoke the language of his hometown, and the Google translator was useless. Despite all the differences, there was a way to understand each other: "We were speaking the language of football."